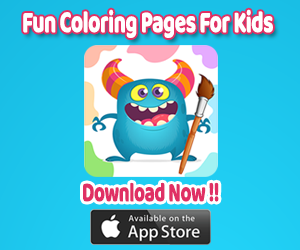 Why sorting colors is important for toddlers?
Sorting activities often attract children. You don't have to teach the kids sorting to see them doing it by nature. Sometimes when you enter the room of your child, you will find him categorizing his games by color or volume, or shape even. So, you might ask why it is important, if it is a natural instinct for children, to be taught that in the Montessori program. The short answer for that is that colors and shapes are the gateways to cognitive development for your toddler. And all the games and activities used in Montessori are paving the way for that. In this article, we will talk about 10 Montessori color sorting activities that will help your child as the pre-skills needed for memory and visual perception abilities.
You may like to browse our: Free Printable!- Basic Colors worksheets for kindergarten
1- Montessori color sorting activities for 2-year-old – colorful geometric shapes:
Your toddler's visual processing begins in two key areas: shapes and colors. Sorting shapes is a great way to get better coordination and develop thinking skills. Use toy sorters with holes for different shapes, and watch your toddler's experiment. Point out circles, triangles, and squares and help your toddler understand shape names and match corresponding shapes.
2- Playing with a set of colored bowls:
Child playing with a set of colored bowls to fill them, while learning to count by manipulating the educational material. I know that sorting might look like a simple skill compared to learning the ABCs. But the reality is, sorting is a much more complicated skill than learning the alphabet. Sorting takes so much brain power for our toddlers – much more than memorizing letters.
3- Ice Cream Color Sorting Activities With Popsicle Sticks:
So, this is one of the activities for our toddlers. We gave them these popsicle sticks but scrambled and asked them to unscramble them and who will finish earlier will take the candy prize.
4- Drawing with glue and colored sand :
If you haven't done this yet. then you should definitely do it. it's full of fun and tactile skills for your little artist. Using the glue to draw does truly needs patience and control. This is of course good for fine motor skills. When your kid finishes drawing with glue, the magic starts. he will spread the sand on the glue drawings and the picture will start to be more vivid with colors on it. as you see in the picture, the kid is now in the final part of coloring on the glue.
5- Sorts the animal figures by color:
So, any sorting activity is based on two things:
Something to sort.
Something to sort into.
In this activity, the kid will grab the animals and put them in the right cup which has a similar color. it might seem easy but for a two-year-old child, it is challenging enough. He will use his mind to define what color is this animal and he will use his eyes to find the matching cup.
You may like to see our: Color Worksheets For Preschool and Kindergarten Free
6- Montessori color sorting activities – Rainbow Waldorf Montessori:
This game wasn't actually a Montessori game. In the past few years, it was found as one of the games that cope with the Montessori methodology of teaching. However, these are very costly. It's not a must-have product and your kid can survive without but anyway it is a great home activity for your kid.
7- Montessori color sorting activities – Easy Rainbow Paper Craft for kids:
In this game, we will cut some thin slides of colorful paper. We will use glue to stick the slides. We will get white paper and cut it in the shape of a cloud. Then we will glue the paper on the cloud to make a beautiful rainbow.
if you are interested to see more activities like that you may like to watch our channel
8- Learning colors and shapes – educational logic Montessori toys :
When children sort objects they are learning that some of those things are alike and some of those things are different. Once they move to group according to a number of different attributes they learn that a single item can have many features by which it can be sorted. However, most of the children need no directions to do that but still some need that.
9- Educational games Montessori preschool early development: playing with a wood mosaic:
Well, the kid here has to make squares inside the mosaic but the squares are not complete, so he has to complete them first according to color.
10 – Kid making artwork from vegetable stamping at home:
Teach your child about symmetry and turn patterns into prints with this simple way of making shapes from vegetables. You handle cutting the fruit and vegetables and he has to handle identifying the mathematical patterns he is making.