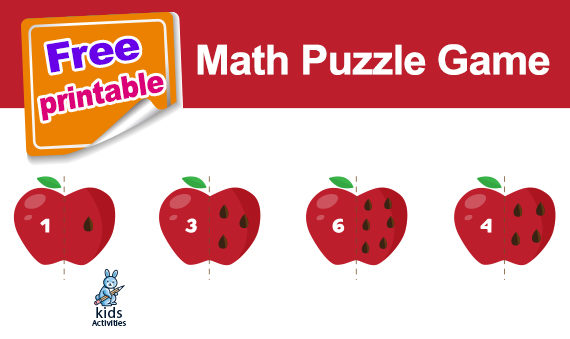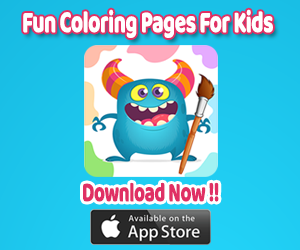 Free Printable Math Games For Kindergarten
Math games for kindergarten are an amazing way to help children learn and practice math skills. These games are not only fun activities but also a great method for kids to master the math basics and fundamentals skills they will need in school all the years. For instance, counting numbers, identifying shapes, addition, subtraction, and so on.
Math games for kindergarten will prepare toddlers, preschoolers, and kindergartners to approach their future math lessons with passion, confidence, and enthusiasm.
You may like: (FREE Animal Alphabet Worksheets for Kindergarten)
Number puzzle games for kindergarten
In this amazing printable puzzle game, your children will practice counting seeds of apples through playing. Simply, cut the shapes of apples with scissors, so they appear as a puzzle. Then, give them to kids to solve the puzzle with fun. Kinders will count the seeds and attach the part which contains the number with the parts of seeds.
Enjoy with your kids and let them learn and master counting (from 1:10) with tons of fun.
Come on, download this printable puzzle game. It's free!
You may like: (Free!- Number Worksheets for Kindergarten)
You may like: (Kindergarten Math Worksheets: Trace and Color Numbers)
Math games for preschool printable pdf
Math games for preschoolers help promote your young learner's love of math with these engaging math games! Educational math game for toddlers is one of the best ways to develop your kid's skills. This free printable toddler math game helps your kids practice basic math skills, such as counting and number recognition.
Get ready for some fun with these preschool math puzzle games! kids' activities are here with exciting maths activities for your lovely kids.
To download this Free Printable Math Games For Kindergarten you can press on the link below so, you can print it for free in a PDF version.
Download math games for kindergarten free pdf  
You may also like: (Free Counting Numbers 1-10 Printable Worksheets)
Fun Coloring Pages for kids is an Educational game application for pre- K kids or kindergarten kids. They learn and color: Numbers, Alphabet Letters, Animals, Vegetables, Fruits, Shapes, and much more.
Download Fun Coloring Pages For Kids – iOS App Now !!