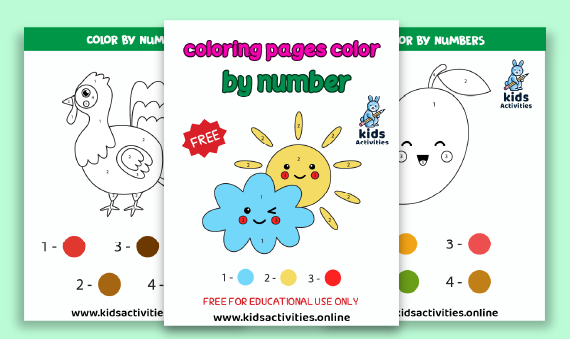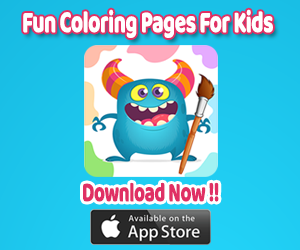 Coloring pages color by number printable worksheets for kids, including cute animal pictures, Fruit, vegetables, unicorns, mermaids, seasonal pictures, and more!
Free! Coloring Pages color by number printable for kids
Scroll down the page to see all our free color-by-number pictures. These include cute animals, pretty flowers, Fruit, vegetables, unicorns, and fun cartoon images. We hope you find a printable that you like!
Our color-by-number worksheets are high-resolution letter-sized PDFs. To download, click on the colored button link underneath the end of this article. These printables are for personal, non-commercial use only.
Color by Numbers Fruits and Vegetables: Coloring Book for Kids ages 4-8 | Educational Activity Books for Kids are Great Gifts For Boys & Girls
You may like: Free!- Pet Worksheets for Preschoolers
Easy coloring by numbers for kids
Little learners will build number sense skills while also working up an appetite in this delicious fruit-themed color-by-number worksheet. Color-by-number activities are a great way for young learners to practice identifying numbers 0–10 while also honing their fine motor skills. Using the color key to guide them, kids will color in mangoes, kiwis, grapes, watermelons, and more in this mouthwatering activity.
You may like: Printable Pet Animals Flashcards, Free Pdf
Vegetable coloring pages by numbers
Coloring By Numbers To Vegetables
Download the PDF File to print the printer-friendly page of the Coloring By Numbers To Vegetables
You may like: Free Preschool Activity Book For 3 4 Year Old ..Download PDF
Color by Number Coloring Pages
Free printable pet animals worksheets preschool- mystery color by number free printables
You may like: Free Cute turtle coloring pages for kids, Printable PDF
Color by number worksheets for kindergarten
You may like: Free Printable Sea Animals Coloring Pages
Color by Number Worksheets for Preschool
If you're tired of color by number, try painting by number instead! This cute sheet features an adorable bee, each in need of some color. Kids get lots of fine motor skills practice as they follow the directions and get the scene colored right.
Color by Number Printables for Adults
Pre-K students use a number key to color in a turkey with this printable!
You may like: Free Coloring By Numbers Printable For Preschoolers
Color by Number Printable Easy
Coloring sheets for dogs, cats, and other pets are great for relaxing and having fun. They're also a great way to teach children about different types of animals.
You may like: Find Two Same Pictures Educational Game
Download Color by number printable pdf!
Inside this lovely resource pack, you'll find 10 beautiful carton-themed coloring sheets for kids. So feel free to print out as many copies of your favorites as you'd like and have some fun coloring in and experimenting with colors and mediums.
Toddler Activities you might enjoy
You can also use these coloring sheets to teach children about different animal species. Simply print out the images and cut them into strips. Then, fold each strip in half so that the image is facing down. Next, place the folded strips on top of one another and glue them together. Finally, let your child color the entire sheet.
We also have plenty of other coloring sheets for kids to discover. Here are just a few we think you might love:
We really hope that this collection of free cute coloring sheets for kids gave you hours of coloring fun!
Remember that our coloring pages and printables are free for you to print, color, and enjoy.
Please go ahead and like and share our Facebook page to never miss out on our free coloring pages and printables that we'll be bringing out!
Lastly, please do share your completed cute printables on our Facebook page for us to enjoy!
We'll be looking forward to seeing how you bring these adorable animals to life with your coloring